Mekong River Cruises 2023/2024
If you have been tuning into Channel 4's Great Canal Journeys you will be familiar with the beautiful sight of the waterways of Vietnam and the Mekong Delta as Timothy West and Prunella Scales cruise through Southeast Asia on their grand tour.

Has their adventure left you feeling inspired to embark on a voyage down some of the world's most beautiful rivers? Join us on an incredible tour with cruises showing off the landscapes, history and culture of some extraordinary destinations, with many of our cruise holidays featuring our brand-new vessel, the Victoria Mekong!
Mekong River Cruise Holidays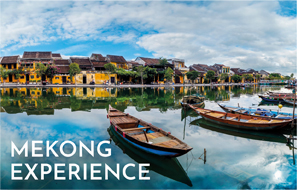 Mekong Experience
Delve into the colourful culture along the Mekong, learning about the local way of life on Tiger Island, with a visit to the floating market, and enjoying a bike round around iconic Phnom Penh.
14 days from £2,990pp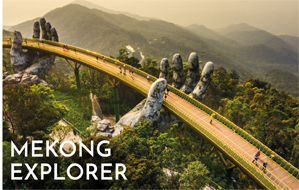 Mekong Explorer
Explore the lesser known sides of Vietnam and Cambodia with an inspiring Mekong cruise, heading to the striking Golden Bridge, exploring the Cu Chi Tunnels and enjoying a cookery class.
22 days from £3,990pp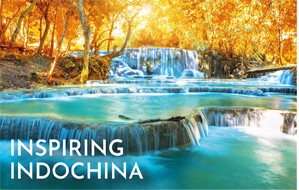 Inspiring Indochina
Be enchanted by magical Luang Prabang, explore bustling Hanoi, uncover historical Phnom Penh and relax as you sail down the mighty Mekong River, discovering three incredible countries.
23 days from £4,490pp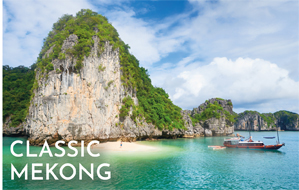 Classic Mekong
This tour will see you cruise through some of Southeast Asia's most iconic sights. Discover Siem Reap and the Temples of Angkor before heading to Hanoi to explore this bustling capital city.
17 days from £3,490pp
Mekong River Cruises
As the Mekong reaches the end of its 2,700 mile journey to the South China Sea, it splits into a multitude of canals and waterways that meander through the Mekong Delta. An area of huge abundance it is a lush, green patchwork of paddy fields, vegetable patches, sugar cane plantations, orchards and grassy meadows, its waters a hive of activity with floating markets, fishermen, commuters and water buffalo all part of the idyllic tableau.
Here, you are removed from the bustle of the cities and sights and immersed in a rural way of life that showcases a different side of Southeast Asia, where a fascinating mix of cultures - Vietnamese, Chinese, Khmer and Cham - all live in harmony with the river and each other.
The very best way to discover this extraordinary destination is by taking to the waterways yourself on a Mekong River cruise. Those that explore the delta sail between the Vietnamese city of Can Tho and Cambodia's capital Phnom Penh, winding their way along the maze of waterways for you to admire the beautiful river scenery. To truly immerse yourself in this picturesque world however, there are certain places you should explore while you're there, all of which can be experienced on Tours featuring the deluxe Victoria Mekong ship.