Keukenhof River Cruises 2022/2023
Once a year, something magical happens. Perhaps one of the most stunning spring gardens in the world, over 7 million bulbs come alive with colour as they begin to bloom at Keukenhof in Lisse. To see these incredible flower mosaics is an unforgettable experience. But you can also marvel at the georgeous rainbows of colour lining the riverbanks as you cruise the glorious Dutch Waterways. Not just the tulips, but the pretty houses that line tranqil canals, as well at the pretty windmills turning in the landscape, gothic architecture and charming squares.
The Netherlands' love affair with tulips has been going strong for centuries. Billions of them burst into bloom every April, blanketing parks, fields and gardens in a rainbow's worth of colours. Our favourite place to see them? Keukenhof Gardens.
Nicknamed the 'Garden of Europe', Keukenhof is absolutely spectacular in the springtime, with row upon row of brightly coloured tulips, woodland paths bordered by hyacinths and daffodils, and winding streams flecked with fallen blossom petals.
Brighten up these dark winter days, and discover our range of blooming lovely Flower and Garden breaks. From the delights of Amsterdam and sensational Keukenhof Park, you can rely on us to plant a smile on your face this spring!
Keukenhof Tours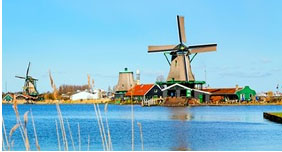 SAVE £200pp
Seeing crocuses, daffodils, hyacinths and tulips at colourful Keukenhof Gardens. A visit here is a real high-point of a springtime Netherlands cruise.
From £1,499pp - 5 nights cruise on MS River Discovery II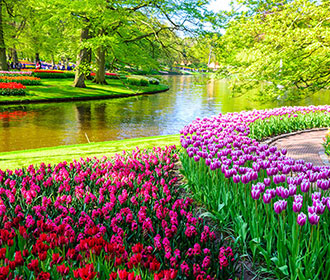 4 Days from just £449 pp
Departures: April
3 nights on the MV Prinses Christina with full board (includes packed lunch for Keukenhof excursion)
Excursion to Keukenhof Gardens
Ports of Call: Vianen, Hoorn & Amsterdam
Dutch Waterways and the Beauty of Keukenhof
SAVE £400pp
Wander wide-eyed around the kaleidoscopic Keukenhof Gardens, where rows of millions of tulips are set to burst into bloom; sip coffee in canalside cafes in Utrecht; explore the series of awe-inspiring Delta Works.  
From £1,299pp - 7 nights cruise on MS Serenade 1
Keukenhof River Cruises