A-Rosa River Cruises 2023/2024
When it comes to premium river cruising, A-ROSA ticks all the boxes. Drift along France's most captivating rivers and take in the views fom your spacious and elegant cabin. Relax on the sundeck and take a dip in the outdoor heated pool. You can watch the passing scenery with a cool drink in the outdoor restaurant too.
On board the A-ROSA Stella you can enjoy an all inclusive drinks package, afternoon tea and snacks, wonderful freshly prepared cuisine and the chance to relax in the on-board spa.
A-Rosa River Cruises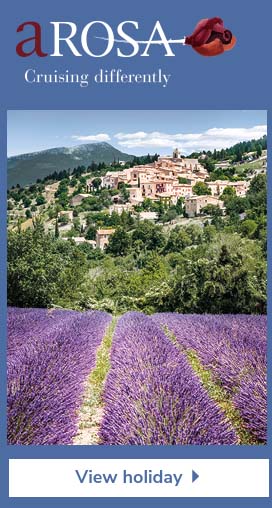 with Sketches of the Saône
We Love
Discovering Mâcon's oldest building, a 15th-century house with a carved-wood façade. Choosing to take in the dramatic views of the 'Grand Canyon of Europe'.
Summary
Verdant vineyards, fragrant fields of lavender, honey-stone towns glowing in the sun - summertime in the South of France is glorious. This delightful week-long river cruise takes us along the Saône and Rhône, through Burgundy's wine country and the lavender-scented hills of Provence. Along the way, we'll stop off to explore Mâcon's café-lined squares, Avignon's city palaces and Arles' Roman remains. We'll finish with an optional trip to the Valley of the Ardèche, where limestone cliffs tower hundreds of feet above the river.
8 days from £1,899 per person
A-ROSA River Cruise Holidays